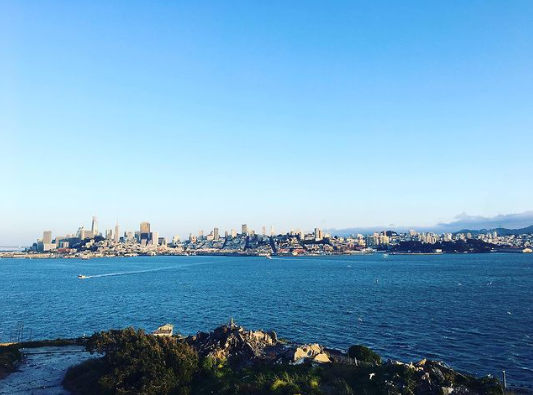 Essa é uma foto do SKYLINE de San Francisco tirada por mim da ilha de Alcatraz. Essa é a vista que muitos prisioneiros legendários tiveram o prazer ou o desprazer de contemplar por anos a fio.
Não sabe que foto é essa? Corre la pro meu intagram @meninaviajei

SKYLINE é uma daquelas palavras do inglês que é melhor não tentar traduzir pro português. O equivalente linguístico mais próximo para uma tradução direta seria a palavra "horizonte". Entretanto, SKYLINE não é simplesmente o HORIZON.

Por definição, SKYLINE significa: "an outline of land and buildings defined against the sky." Isto é, é o perfil/silhueta de uma cidade visto ao se olhar pro horizonte. Então quando você está fazendo um passeio de barco e vê a cidade toda lá de longe, saiba que você está olhando para o SKYLINE da cidade.
Já a palavra HORIZON significa: "the line at which the earth's surface and the sky appear to meet.". Ou seja, o 'encontro' da superfície terrestre e o céu.
Outro significado seria: "the limit of a person's mental perception, experience, or interest". Ou seja, o limite de 'visão' que uma pessoa tem sobre a vida.
E quando alguém quiser saber o que esse ou outros termos que não têm correspondência linguística equivalente perfeita significa, explique!